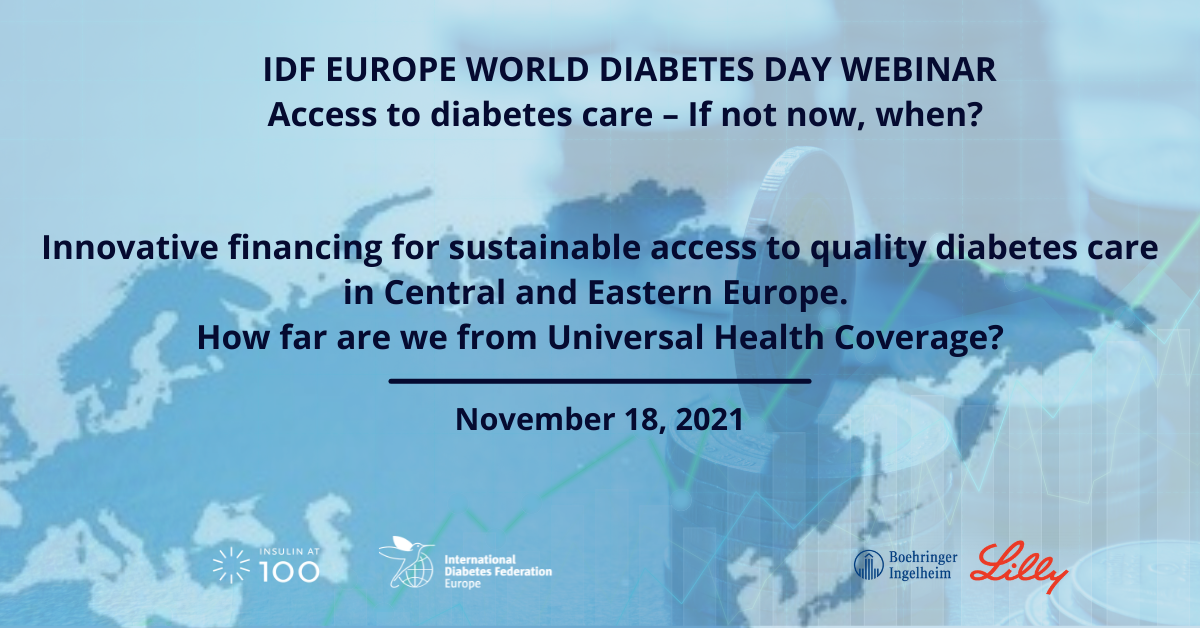 ACCESS TO DIABETES CARE - IF NOT NOW, WHEN?
Innovative financing for sustainable access to quality diabetes care in Central and Eastern Europe – How far are we from Universal Health Coverage?
Watch the webinar
To mark the 100th anniversary of the discovery of insulin and to celebrate World Diabetes Day, IDF Europe organised two webinars, on November 16 and on November 18, around the theme of "Access to Diabetes Care – IF NOT NOW, WHEN?.
On the 18th of November, the second webinar focused more specifically on the situation regarding access to diabetes care, medicines and technologies in Central and Eastern Europe and looked at innovative financing mechanisms/strategies that could be put in place to ensure that the 2030 Sustainable Development Goals, in particular Targets 3.4 and 3.8 can be achieved.
During the webinar, speakers explored the key strategies supporting improved availability and affordability of core diabetes interventions and services including budget prioritisation, re-design of healthcare systems and review of procurement systems as well as health financing mechanisms and innovative approaches to healthcare system financing.
IDF Europe Chair-elect, Dr. Nebojsa Lalic underlined that to achieve universal health coverage and improve health outcomes for all people living with diabetes, it is time to rethink how care is financed. New financing strategies are urgently needed, particularly across CEE countries as demonstrated by case studies from Romania, Kazakhstan and Uzbekistan. Other speakers also identified some common challenges and needs of the diabetes community across the region and how mobilising private capital through blended finance ecosystem has the potential to improve care delivery, reduce out-of-pocket expensive and catalyse cost-effective prevention.
Prof Lalic closed the webinar on a call for action to improve access to quality diabetes care, highlighting the following priorities:
Prevention has shown to delay the onset of Type 2 diabetes and diabetes-related complications, is cost-effective and should be prioritised in healthcare systems.
Healthcare systems should be re-designed, with a focus on investment in primary care, accompanied by innovative financial strategies, including incentives.
New financing mechanisms should be introduced to decrease out-of-pocket expenses, ensure equitable and affordable access to quality care for PwD and increase investments in innovations.
More transparency and improved country competence are required to improve procurement systems.
PwD should be adequately represented in co-designing systems that work and involved in Health Technology Assessment processes.
Zhanay A.Akanov, Chief, Diabetes Division AAA Medical Clinic
Andrea Feigl, CEO & Founder, Health Finance Institute
Said Ismailov Chair, Department of Endocrinology, Tashkent Paediatric Medical Institute
Nebojsa Lalic, Chair elect, IDF Europe
Niti Pall, Chair, IDF Europe
Adrian Pana, Health consultant, Center for health Outcomes & Evaluation
Iryna Vlasenko, IDF Vice-President
Watch the video recording of the webinar
Download the presentations: