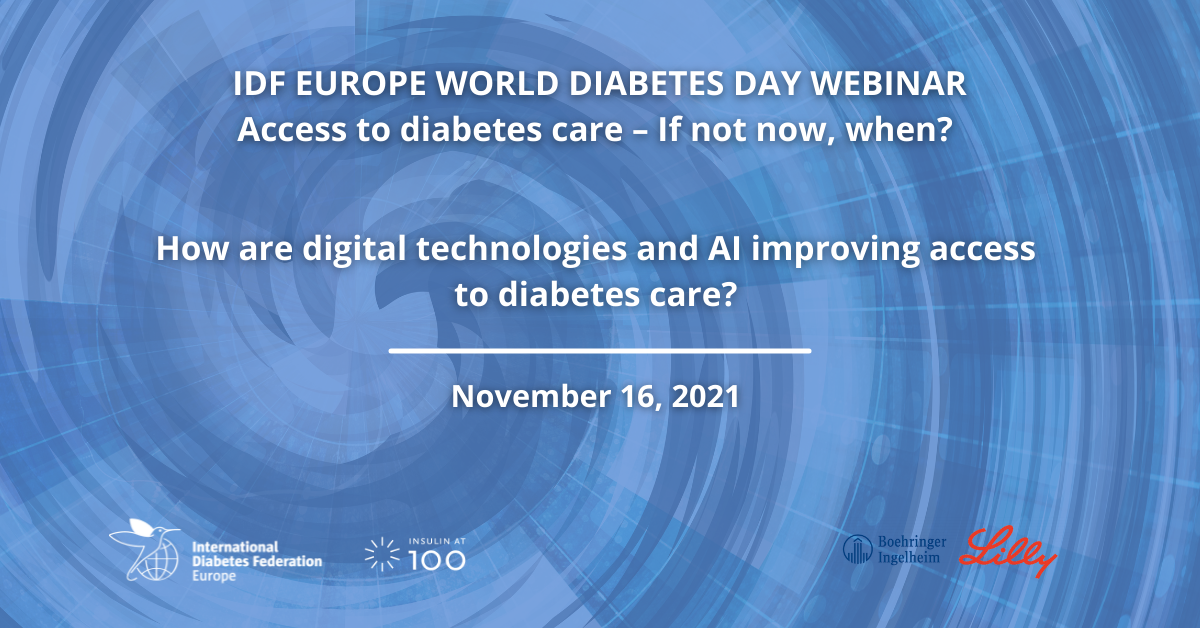 ACCESS TO DIABETES CARE - IF NOT NOW, WHEN?
How are digital technologies and AI improving access to diabetes care?
Watch the webinar
To mark the 100th anniversary of the discovery of insulin and to celebrate World Diabetes Day, IDF Europe organised two webinars, on November 16 and on November 18, around the theme of "Access to Diabetes Care – IF NOT NOW, WHEN?.
On the 16th of November, the first webinar focused on the role of digital technologies and Artificial Intelligence (AI) in improving access to diabetes care. The meeting was co-hosted by MEP Sirpa Pietinäinen, MMD co-chair, and by MEP Marisa Matias.
During the webinar, speakers explored the potential of digital technologies and AI in transforming current traditional healthcare systems into personalised patient-centric systems as well as the challenges posed by these technologies and the way to overcome them.
The webinar's speakers represented three distinct perspectives. Jaivir Pall, a Type 1 Diabetes advocate and digital health entrepreneur spoke from the perspective of people living with diabetes and focused his talk on the role of technologies in diabetes self-management. The healthcare professional's perspective was provided by Dr. Sufyan Hussain from King's College London, who gave examples of the role of AI in clinical decision making. Lastly, Luke Slawomirski, an E-health specialist and consultant for the OECD, provided the perspective of decision-makers, and addressed the potential of AI in population health management.
The following priorities were highlighted by IDF Europe Chair-elect, Prof. Nebojsa Lalic during the webinar:
Need to create interoperable data sharing and patient-centred systems to improve the life of PwD and people living with other NCDs.
Need a data governance framework that respects security and privacy rules of patients while ensuring data quality standards.
Need for clinicians and physicians to educate, train and guide people on the use of these technologies to improve their digital/health literacy and foster trust.
We need to act quickly and in a coordinated way to make these digital technologies accessible to everyone.
MEP Marisa Matias, European Parliament
MEP Sirpa Pietikäinen, European Parliament
Bastian Hauck, IDF Europe board member
Niti Pall, Chair, IDF Europe
Jaivir Pall, Type 1 Diabetes Advocate
Sufyan Hussain, King's College, UK
Luke Slawomirski, Organisation for Economic Co-operation and Development (OECD)
Watch the video recording of the webinar
Download the presentations: