Overall, the Greek healthcare system offers free high-quality care to people living with diabetes. All insulins, diabetes medicines, and cardiovascular medicines are fully reimbursed by the national insurance. While CGMs, pumps and consumables are fully reimbursed for people living with T1D, diabetes associations are advocating for CGMs to be also reimbursed for people with T2D on intensified insulin regimen.
There is no formal education for specialist nurses in diabetes. However, some nurses who work in diabetes centres have some informal knowledge of diabetes care, and the Hellenic Diabetes Association is planning on creating a formal curriculum for diabetes educators.
Regarding eHealth, the "intangible prescription system" is available for all, and remote consultations are done on an individual basis.
The main gaps in diabetes care in Greece include the lack of specialised training for nurses, the absence of a diabetes registry, and the implementation of effective prevention programmes.
Watch the video testimonials from Prof. George Dimitriadis, Dimitris Kaperdanakis and Konstantina Boumaki, and read the written testimonial by Vasiliki Avrampou.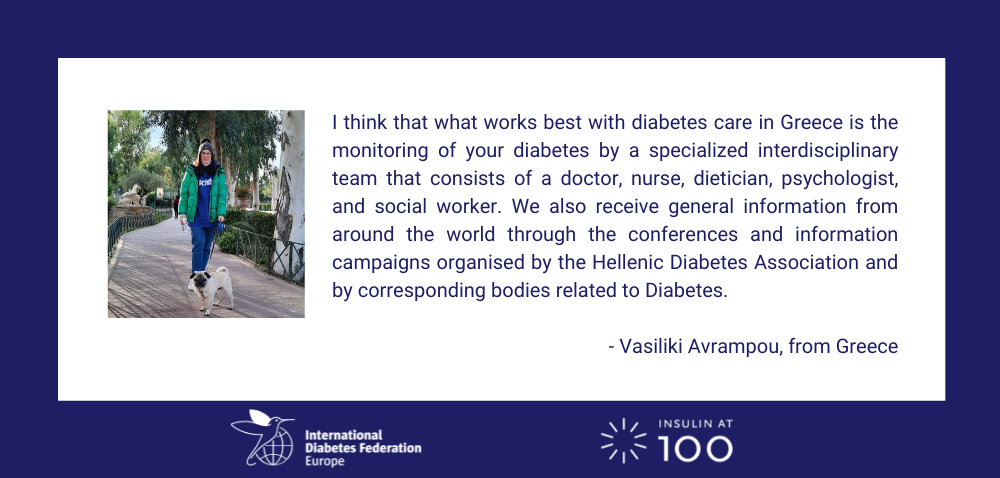 This country profile was developed with the help of the Hellenic Diabetes Association and Yourah network in Greece.